Game Description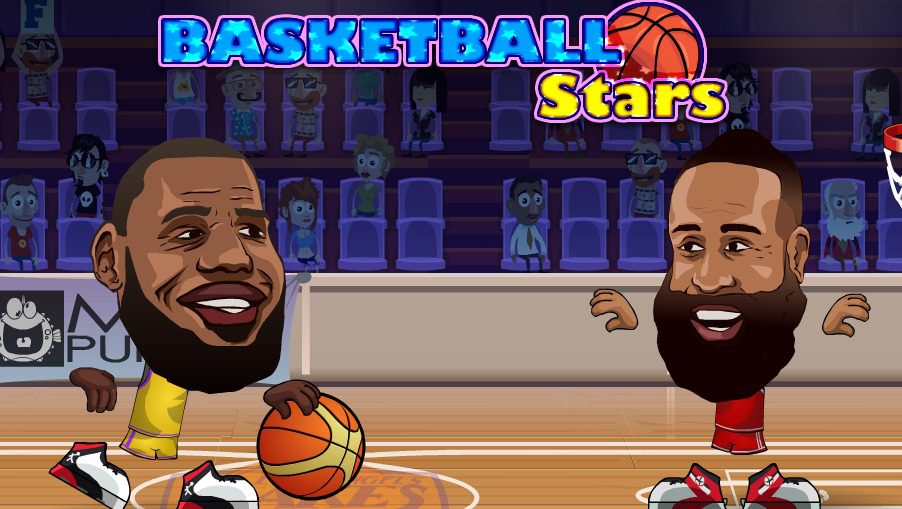 Basketball Stars is an action-packed online basketball game that offers exciting one-on-one matches. Developed by MadPuffers, this game allows you to create your own player, customize their appearance, and compete against opponents from around the world.
Game Controls
Take control of the basketball court with these simple controls:
Player 1:

Move: Arrow keys
Jump: Up arrow
Shoot/Block: Z
Steal: X

Player 2:

Move: WASD keys
Jump: W
Shoot/Block: K
Steal: L
How to Play Basketball Stars
Basketball Stars is all about showcasing your basketball skills and competing against other players. Here's how to get started:
Create Your Player: Customize your player's appearance and choose your favorite basketball team.
Select Your Game Mode: You can play in Tournament mode to compete against AI opponents or in 2-Player mode to challenge a friend.
Master the Court: Dribble, shoot, and defend your way to victory. Score more points than your opponent to win the match.
Upgrade Your Player: Earn coins and unlock upgrades to enhance your player's skills and abilities.
Tips and Tricks
To become a basketball star, consider these tips:
Upgrade Wisely: Invest your coins in upgrades that match your playstyle, whether it's shooting, blocking, or stealing.
Defense Matters: Don't just focus on offense. Play tight defense to block your opponent's shots and steal the ball.
Learn Special Moves: Each player has unique special moves. Practice and utilize them to gain an edge in matches.
Participate in Tournaments: Join tournaments to earn more coins and compete against challenging AI opponents.
Game Developer
Basketball Stars was developed by MadPuffers, a game developer known for creating competitive and enjoyable online games.
Game Platforms
You can enjoy the basketball action of Basketball Stars on the following platforms:
Web Browser: Play the game directly in your web browser without the need for downloads or installations.
Mobile Devices: Download the game on iOS and Android devices to play on the go.
How to Play Unblocked
To play Basketball Stars unblocked, follow these steps:
Check School or Work Restrictions: Make sure your school or workplace doesn't have strict internet restrictions or content filters that might block gaming websites.
Visit Official Game Websites: Access the game through the official website or authorized gaming platforms associated with Basketball Stars to enjoy the unblocked version.
Now that you're ready to hit the court, create your player, and aim for victory in the thrilling world of Basketball Stars!