Game Description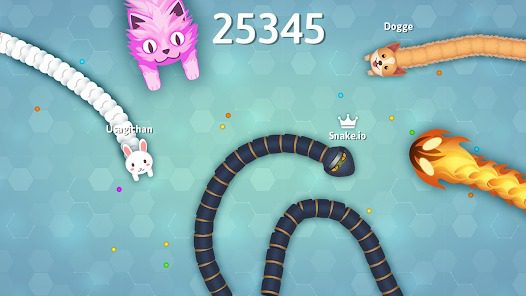 Snake.io is an addictive and competitive online multiplayer game where you control a snake and strive to become the longest and most powerful one in the arena. Developed by Kooapps Games, this game offers fast-paced action and strategic gameplay that will keep you hooked.
Game Controls
Navigate your snake using these simple controls:
Arrow Keys: Use the arrow keys on your keyboard to control the direction of your snake's movement.
How to Play Snake.io
Master the art of Snake.io with these steps:
Enter the Arena: Start the game and enter the multiplayer arena filled with other snakes.
Collect Pellets: Begin by collecting colorful pellets scattered throughout the arena. Each pellet you consume makes your snake longer.
Avoid Collisions: Be careful not to run into other snakes, including your own tail, as it will result in the end of your game.
Strategize: Use tactics like encircling other snakes or cutting off their paths to make them collide with your snake's body.
Become the Longest: Your goal is to become the longest snake in the arena. The longer you grow, the more formidable you become.
Eliminate Opponents: If you force other snakes to collide with your snake's body, they will be eliminated, and you can consume their remains to grow even longer.
Stay on Top: Keep playing, eliminating opponents, and collecting pellets to maintain your position on the leaderboard.
Tips and Tricks
To excel in Snake.io, consider these strategies:
Be Patient: Avoid rushing into dangerous situations. Patience is key to survival.
Cut Off Opponents: Use your snake's length to strategically cut off opponents and force them into collisions.
Stay Alert: Pay attention to the movements of other snakes, especially larger ones, to avoid getting trapped.
Steal Pellets: If you see a vulnerable opponent collecting pellets, consider intercepting and eliminating them to steal their pellets.
Control Speed: You can control the speed of your snake by tapping the arrow keys lightly for precise movements.
Game Developer
Snake.io was developed by Kooapps Games, a game developer known for creating entertaining and competitive multiplayer games.
Game Platforms
You can enjoy Snake.io on the following platforms:
Web Browser: Play the game online directly in your web browser without the need for downloads.
Mobile Devices: Download the game on iOS and Android devices to play on the go.
How to Play Unblocked
To play Snake.io unblocked, follow these steps:
Check School or Work Restrictions: Ensure that your school or workplace doesn't have strict internet restrictions or content filters that might block gaming websites.
Visit Official Game Websites: Go to the official website or gaming platforms associated with Snake.io to access the unblocked version of the game.
Enjoy the Game: Once you've accessed the unblocked version, jump into the competitive world of Snake.io and aim to become the biggest snake in the arena.