Game Description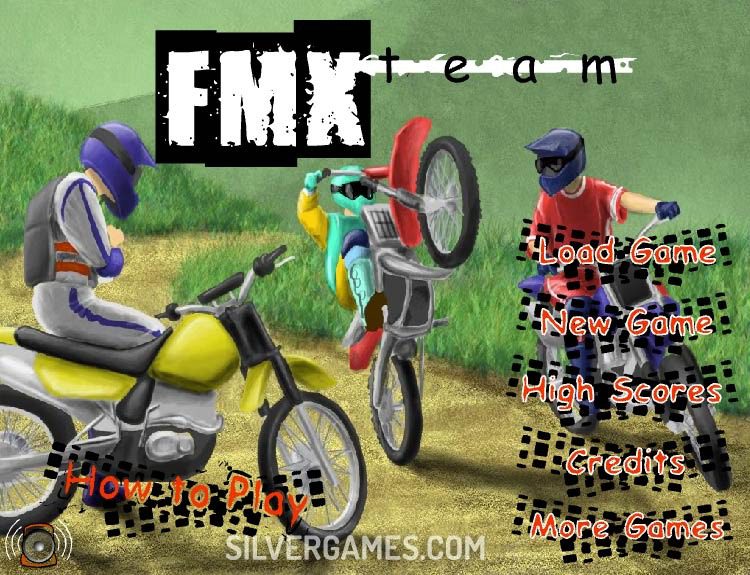 FMX Team is an exhilarating online motocross game that puts you in control of a skilled freestyle motocross rider. Developed by IriySoft, this game offers an action-packed experience as you perform stunts, tricks, and jumps to earn points and impress the virtual crowd.
Game Controls
Master the motocross controls to pull off stunning tricks:
Up Arrow: Accelerate your motocross bike.
Down Arrow: Brake and reverse.
Left Arrow: Tilt your rider backward.
Right Arrow: Tilt your rider forward.
Numbers 1-7: Perform tricks while in the air.
How to Play FMX Team
Embark on a thrilling motocross journey with these steps:
Choose Your Rider: Select your rider from a roster of talented FMX professionals, each with unique skills and attributes.
Select a Bike: Pick a motocross bike that suits your style and riding preferences.
Complete Stunt Challenges: Navigate through a series of tracks filled with ramps and obstacles. Perform stunts and tricks while airborne to earn points.
Achieve Objectives: Each level has specific objectives, such as earning a target number of points or executing specific tricks.
Balance and Timing: Maintain balance on your bike, and time your tricks perfectly for maximum points.
Unlock New Levels: Successfully complete challenges to unlock new levels and advance your career.
Upgrade Your Bike: Use the points you've earned to upgrade your bike's performance and capabilities.
Tips and Tricks
To become an FMX Team champion, keep these tips in mind:
Practice Regularly: Mastering the stunts and tricks requires practice, so keep trying to improve your skills.
Balance is Key: Maintaining balance on your bike is crucial for successful landings.
Perfect Timing: Execute your tricks with precise timing to maximize your score.
Complete Objectives: Focus on achieving level objectives to progress in the game.
Upgrade Wisely: Spend your points on bike upgrades that align with your playstyle.
Game Developer
FMX Team was developed by IriySoft, a game developer known for creating exciting and addictive online games.
Game Platforms
You can enjoy FMX Team on the following platform:
Web Browser: Play the game online directly in your web browser without the need for downloads.
Mobile Devices: Download the game on iOS and Android devices to play on the go.
How to Play Unblocked
To play FMX Team unblocked, follow these steps:
Check School or Work Restrictions: Ensure that your school or workplace doesn't have strict internet restrictions or content filters that might block gaming websites.
Use a Proxy: Consider using a proxy website or VPN service to access blocked gaming sites.
Enjoy the Game: Once you've bypassed any restrictions, you can freely enjoy the high-flying stunts and excitement of FMX Team.