Game Description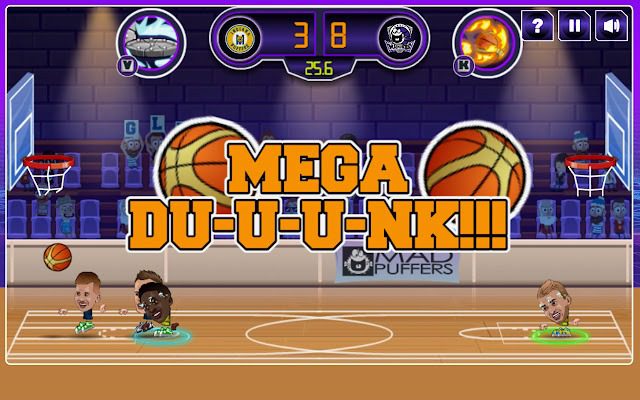 Basketball Legends is an exciting online basketball game that allows you to play as some of the greatest basketball legends of all time. Developed by MadPuffers, this game offers intense one-on-one matches, where you can showcase your basketball skills and compete against famous players.
Game Controls
Master the basketball court with these controls:
Player 1:

Move: Arrow keys
Jump: Up arrow
Dunk/Block: > (right arrow)
Shoot/Steal: < (left arrow)
Pump: Down arrow

Player 2:

Move: WASD keys
Jump: W
Dunk/Block: D
Shoot/Steal: A
Pump: S
How to Play Basketball Legends
Basketball Legends is all about showcasing your basketball skills and defeating your opponents. Here's how to get started:
Choose Your Legend: Pick your favorite basketball legend, each with unique skills and abilities.
Select Your Game Mode: You can play in Tournament mode, where you compete against AI opponents, or in 2-Player mode to challenge a friend.
Score Points: Dribble, shoot, dunk, and block your way to victory. Score more points than your opponent to win the match.
Master Special Moves: Each legend has special moves. Learn and use them to gain an advantage.
Tips and Tricks
To become a true basketball legend, keep these tips in mind:
Master Special Moves: Get familiar with your legend's special moves to use them effectively during the game.
Play Defense: Don't just focus on offense. Defense is equally important. Block your opponent's shots and steal the ball.
Utilize Power-Ups: Power-ups occasionally appear on the court. Grab them to gain temporary advantages.
Teamwork in 2-Player Mode: In 2-Player mode, coordinate with your teammate for alley-oops and passes to outsmart your opponents.
Game Developer
Basketball Legends was developed by MadPuffers, a game developer known for creating entertaining and competitive online games.
Game Platforms
You can enjoy the basketball action of Basketball Legends on the following platforms:
Web Browser: Play the game directly in your web browser without the need for downloads or installations.
Mobile Devices: Download the game on iOS and Android devices to play on the go.
How to Play Unblocked
To play Basketball Legends unblocked, follow these steps:
Check School or Work Restrictions: Ensure that your school or workplace doesn't have strict internet restrictions or content filters that might block gaming websites.
Visit Official Game Websites: Access the game through the official website or authorized gaming platforms associated with Basketball Legends to enjoy the unblocked version.
Now that you're equipped with the knowledge of how to play, step onto the virtual basketball court, choose your legend, and aim for victory in Basketball Legends!