Game Description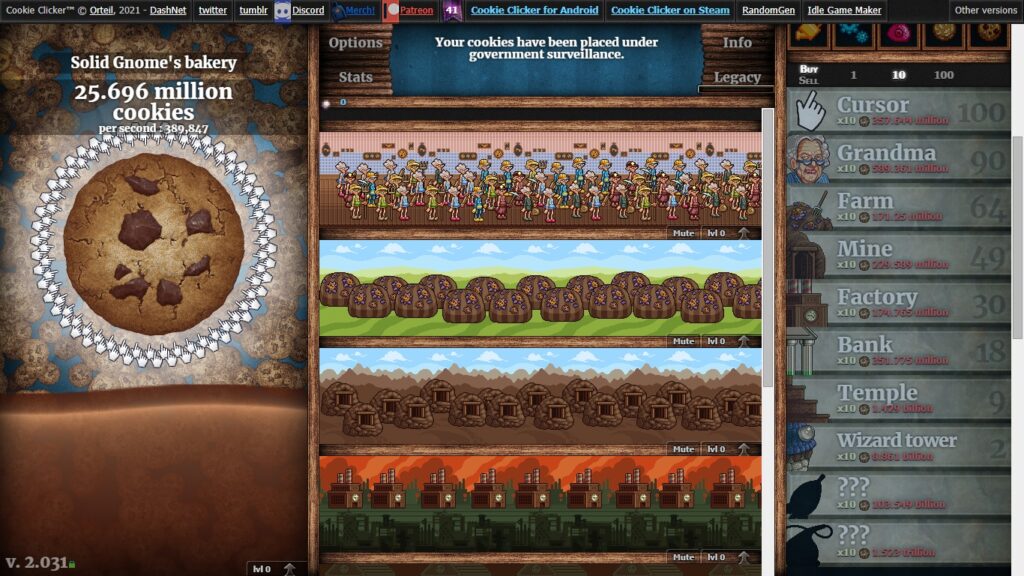 Cookie Clicker is an addictive and incredibly popular incremental game where your goal is to bake as many cookies as possible. Developed by Orteil and Opti, this game's simple yet compelling gameplay will have you clicking for cookies in no time.
Game Controls
Cookie Clicker requires only one control:
Mouse: Click the giant cookie on the screen to bake cookies. That's it!
How to Play Cookie Clicker
Playing Cookie Clicker is straightforward and engaging:
Click to Bake: Click on the large cookie icon to start baking cookies. Each click earns you one cookie.
Purchase Upgrades: As you accumulate more cookies, you can spend them on various upgrades and buildings to automate the cookie-making process. These upgrades increase your cookie production rate.
Achievements: Complete in-game achievements to earn milk, which boosts your cookie production even further.
Golden Cookies: Keep an eye out for golden cookies that appear periodically. Clicking on them provides bonuses, like boosting your production for a limited time.
Grandmapocalypse: Later in the game, you can trigger the Grandmapocalypse, a special event that alters gameplay and adds new wrinkles to the cookie-clicking fun.
Endless Progression: Cookie Clicker is an endless game, so keep baking, upgrading, and collecting cookies to see how far you can go.
Tips and Tricks
To maximize your cookie production, consider these tips:
Upgrade Wisely: Spend your cookies on upgrades that increase your production rate. Prioritize upgrades that offer the best cookie-per-second (CPS) boost.
Golden Cookies: Click golden cookies as soon as they appear for valuable bonuses. Some upgrades can enhance your golden cookie rewards.
Active Play vs. Idle Play: You can play Cookie Clicker actively by clicking for cookies or idly by setting up automated processes through upgrades. Find the playstyle that suits you best.
Save Your Progress: Cookie Clicker allows you to save your progress and export/import your game. Consider doing this to safeguard your cookie empire.
Game Developer
Cookie Clicker was developed by Orteil and Opti, indie game developers known for their unique and addictive incremental games.
Game Platforms
You can enjoy the addictive world of Cookie Clicker on the following platforms:
Web Browser: Play the game directly in your web browser without the need for downloads.
Mobile Devices: Download the game on iOS and Android devices to play on the go.
How to Play Unblocked
To play Cookie Clicker unblocked, follow these steps:
Check School or Work Restrictions: Ensure that your school or workplace doesn't have strict internet restrictions or content filters that might block gaming websites.
Visit Official Game Websites: Go to the official Cookie Clicker website or other trusted gaming platforms to access the unblocked version of the game.
Start Clicking: Once you've accessed the unblocked version, start clicking on that giant cookie and embark on your quest to bake as many cookies as possible.
Prepare to get addicted to the delightful world of cookie baking and upgrading. Cookie Clicker offers a simple yet endlessly entertaining experience that will keep you coming back for more cookies!