Game Description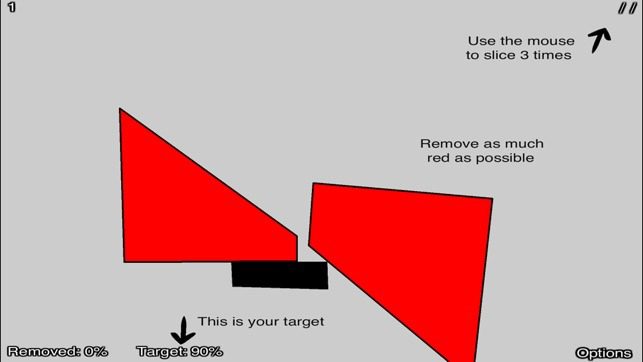 3 Slices is a unique and challenging online puzzle game that will put your slicing skills to the test. Developed by Gaz Thomas, this game presents you with various shapes and tasks you with slicing them into equal parts using a limited number of cuts. It's a brain-teasing experience that will keep you engaged.
Game Controls
Navigate the game using these simple controls:
Mouse: Use your mouse to click and drag to create slices through the shapes.
How to Play 3 Slices
In 3 Slices, your objective is to divide the presented shapes into equal parts with a limited number of slices. Here's how to play:
Analyze the Shape: Examine the shape given to you at each level. This will help you plan your cuts.
Create Slices: Use your mouse to click and drag, creating slices through the shape. You have only three slices in each level.
Equal Parts: The goal is to make the resulting pieces as equal in size as possible.
Score Points: You earn points based on how close you get to equal parts. The fewer slices you use, the higher your score.
Advance Levels: Progress through increasingly challenging levels, where the shapes become more intricate.
Tips and Tricks
To excel in 3 Slices, consider these tips:
Plan Ahead: Before making your cuts, think about the best way to divide the shape into equal parts.
Use Your Slices Wisely: You have only three slices per level, so use them thoughtfully.
Think About Symmetry: Creating symmetrical cuts can often lead to more equal parts.
Game Developer
3 Slices was developed by Gaz Thomas, known for creating engaging puzzle games.
Game Platforms
You can enjoy the slicing challenges of 3 Slices on the following platform:
Web Browser: Play the game online directly in your web browser without any downloads.
Mobile Devices: Download the game on iOS and Android devices to play on the go.
How to Play Unblocked
To play 3 Slices unblocked, follow these steps:
Check School or Work Restrictions: Ensure that your school or workplace doesn't have strict internet restrictions or content filters that might block gaming websites.
Visit Official Game Websites: Access the game through the official website or gaming platforms associated with 3 Slices to enjoy the unblocked version.
Prepare to put your slicing skills to the test and tackle challenging puzzles in 3 Slices!